Wedding Hair Tips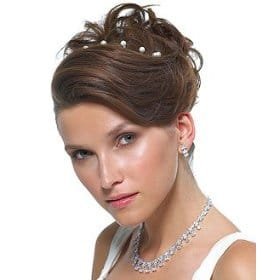 Find a wedding hair style that's perfect for you. Think about your wedding dress and try to match its style. Here are some tips about how to choose bridal hairstyle that will reflects your personal style.
If you have long hair, you can let it all down to get casual look. Or you can try wearing some of it up away from your face and leave the rest to cascade around your shoulders for elegant look.
For medium length hair, let it curled for elegant look. Wear a sparkly headband, decorative hair clips, or tiara.
Don't worry if your hair is short in length. Dust off your curling iron and give your hair some fullness in the crown area and back. Sweep your hair off to the side and save the curls for the back area. By adding a hair piece or hair extension you can add volume and length and completely change your look.
Check out my other guide on wedding clothes.